Kyle Richards Regrets "Everything" About Fight with Sister
It was the second worst thing that ever happened to
Kyle Richards
, but it's her biggest regret.
Two weeks ago, the nation watched in horror as this Real Housewives of Beverly Hills outed her sister as an alcoholic, an allegation that was addressed again last night on part two of that show's reunion special.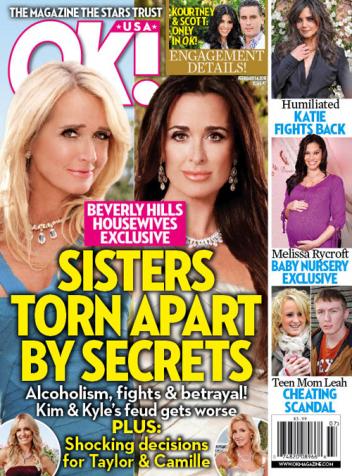 Speaking to Ryan Seacrest yesterday,
Kyle Richards
said "I regret everything about that night... I could take it back... there was a lot of stuff happening off-camera. The audience doesn't see everything. I think it came to a boiling point that night and we just kind of snapped."
Kyle Richards
says the sisters are now "in a goo place," although the tabloid cover above begs to differ.
All the Beverly Hills Housewives appeared on Ellen yesterday, meanwhile.
IHG