Tabloid Brazenly Claims: Angelina Jolie's Twins Have Down Syndrome!
Look. We love celebrity gossip. It's what we do. Rumors can be just as fun to discuss as real news, even if we know they're just that - rumors.
There's a line between fun gossip and flat-out slander, however, don't you agree? To that end,
Star
may have just outdone itself/hit a new low.
How is that even possible? A new cover story on Angelina Jolie and her twins, Vivienne and Knox, alleging they have a serious mental disability: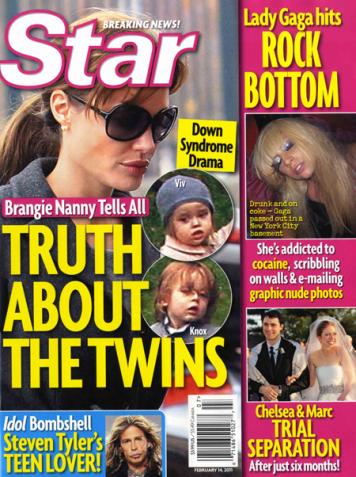 THE TRUTH ABOUT THE TWINS is not contained here at all.
Basically, the magazine makes up utter nonsense about
Angelina Jolie
's twins, which is to be expected. To a point. "Down Syndrome Drama" is not a laughing matter.
Few things are more depressing and sad for families than Down Syndrome, a very serious and debilitating condition. Making light of it to boost sales?
That's just low, even for you,
Star
.
Hopefully next week, the tabloid will return to its less-offensive roots with some ridiculousness about Jennifer Aniston carrying Brad Pitt's alien love child.
THG