Lauren Conrad is Not Sexy and Has No Talent: "
Don't take it from us. We <3 the girl! That's what Lauren Conrad, always more grounded and serious than given credit for, says about herself in Allure.
"They called me "reality show talent" and I'm like, 'What's my talent?'" deadpans the budding fashion designer and author, who also
denies she's sexy
.
"I'm not a sexy person. I'm OK with it. I've never been a sexy girl," she says. "Whenever I've had a boyfriend, he's always been like, 'Oh, you're cute."
Okay maybe. But we'd say ridiculously cute at least ...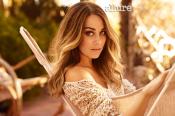 These days, she's over The Hills and is content living a private life as a successful businesswoman, designing clothes for Kohl's and her new line, Paper Crown.
More than ever, LC's trying hard to keep her romantic relationship (with actor Kyle Howard) off-camera. For that, we can only respect
Lauren Conrad
more.
[Photos: Allure]"